Root Canal Surgery – Lorain, OH
Removing Infection from Around the Root Tips and the Surrounding Area
Sometimes after root canal therapy, there may still be some inflamed gum tissue around the roots of the tooth. This is typically a sign that an infection might still be present, and action will need to be taken if you want to avoid an extraction. In some instances conventional retreatment is not the best option especially if previous attempts have not worked. In such cases, Dr. Vaziri and Dr. James may recommend having root canal surgery performed. Please call our office today if you would like to learn more about this treatment and why it might be critical for protecting your smile.
Why Choose Parkway Endodontics for Root Canal Surgery?
Thorough, Detail-Oriented Endodontists
Trusted by Middleburg Heights Since 2004
We Think of Patients as Partners
What is Root Canal Surgery?
While root canal therapy deals with the inner chamber of the tooth, root canal surgery specifically focuses on the treatment of the tip of the roots. This may be necessary if a previously root canal treated tooth becomes re-infected. Possible reasons may be recurrent decay or a crack amongst others. Root canal surgery is also a viable option when a previously root canal treated tooth can not be conventionally treated due to an obstruction in the canals or in case of a bran new restoration that needs to be preserved.
The Root Canal Surgery Process
The area around the affected tooth will be numbed so that there will be no pain during the procedure. A small incision will be made in the gums so that the tips of the roots can be accessed. A small section of the root will be removed, the remaining part will be prepared and sealed with a filling. Any infected tissue around the roots will be removed. Stitches will be used to close the gums so that they can heal.
What Happens After My Root Canal Surgery?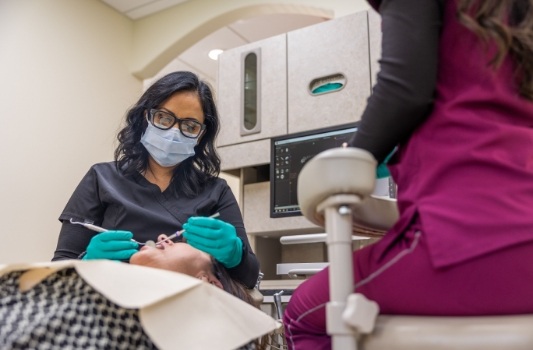 The recovery to this procedure is generally quick. Some discomfort and swelling might occur after your root canal surgery. Use ice packs in 20-minute intervals and take over-the-counter pain medication if you need to. Eat soft foods while you're recovering and avoid chewing with the part of your mouth where the surgery was performed. Physical exertion can worsen your swelling, so it's best to take it easy during the initial stages of your recovery. Protect your mouth from infection by gargling with salt water after each meal.