About Our Dental Office – Lorain, OH
Award-Winning Specialists & Meticulous Care
Our team at Parkway Endodontics loves going above and beyond to provide our patients with an experience that's different in the best ways possible. To accomplish this, we utilize the latest technology and focus on each and every patient's comfort, all while providing the top-tier endodontic care Dr. Vaziri and Dr. James are known for. If you'd like to learn more about what makes us different, then simply read on!
28+ Years of Service
Dr. Vaziri opened Parkway Endodontics in 2004. Ever since, he's dedicated his days to providing his friends and neighbors with meticulous, personalized, and compassionate care. It hasn't gone unnoticed either. He has won the Top Dentist Award in Cleveland every year since 2005! He's proud to have another talented endodontist on the team as well, Dr. James. Together, they have more than 25 years of combined experience in creating healthy, happy smiles.
Focused on Comfort
Whether you're visiting us for a root canal therapy, root canal retreatment, root canal surgery, or something in between, you can rest easy knowing that we will do everything we can to ease your apprehensions. In many cases, walking our patients through every step of the process and answering any questions they have is enough to ease their anxiety. Dr. Vaziri and Dr. James's gentle demeanor further reduces anxiety and comforts their patients. However, we also offer oral conscious sedation, which can help nervous patients, or patients who need extensive care, stay calm and relaxed in the treatment chair.
Advanced Technology
At Parkway Endodontics, we use a Cone Beam/CBCT scanner as well as state-of-the-art microscopes. Utilizing the latest technology serves many important purposes. In addition to allowing us to provide highly precise and accurate treatment, it helps make the process as efficient and comfortable as possible for you.
Emergencies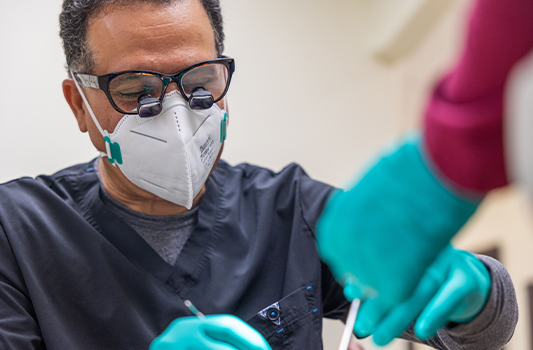 When a dental emergency strikes, the last thing you want is to be stuck frantically trying to figure out who to call. Fortunately, we welcome dental emergencies! We recommend calling us as soon as possible. That way, we can walk you through what to do next and schedule a time for you to come in for treatment. Once you arrive at our office, we will pinpoint the cause of your pain, review your endodontic treatment options, and restore your pain-free smile.